About Michael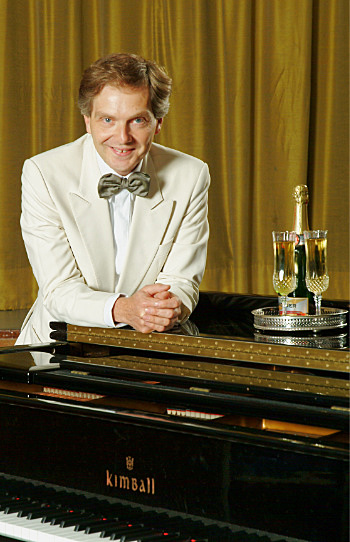 Michael Lunts is one of this country's most experienced and widely-travelled musical entertainers, combining his skills as both musician and actor in many shows of his own devising, from musical dramas exploring the lives of Chopin, Rachmaninov and Schubert to 'intimate revues' featuring the work of the great comedy song writers of the past, from Noël Coward to Tom Lehrer, as well as performing his own comedy songs from the piano.
He has enjoyed a long and varied career in touring, repertory and West End theatre, playing the piano, acting in many kinds of production from serious drama to musical comedy, composing, writing, teaching, directing and performing from the keyboard.
After many seasons learning his craft in repertory theatre and in various national touring companies, he was commissioned by Salisbury Playhouse to write and perform a one-man show about Chopin, Winter in Majorca. Since then, he has toured this and subsequent solo shows about Rachmaninov and Schubert, all over the world, from Canada to Australia, from the Middle East to Cambodia. He has also given hundreds of performances at venues and festivals around the UK.
When not performing these classical music-based shows, Michael has enjoyed collaborating with a number of partners over the years including Roger Leach, with whom he formed a comedy song duo called 'Quirkish Delight', which appeared at festivals and theatres in the 1990s. Michael also performed with singer Susan Flannery for many years in a series of popular musical revues. While with cellist Melanie Dennerly, he devised a show called The Edwardian Cello in which they recreated a typical musical evening from 1912, In aid of The Titanic Relief Fund.
A life-long admirer and performer of the work of Noël Coward, Michael pays tribute to The Master in Coward at Sea, a one-man musical based on Coward's 'P&O 1930', the first time this particular work of The Master has been seen on stage.
One of Michael's most popular shows, Flanders and Swann Revisited, features the songs of Flanders and Swann alongside the poetic wit of Sir John Betjeman.
His most recent show is Roll Over Beethoven, a light-hearted look at classical music, which rather neatly brings together the different sides, classical and musical comedy, of his performing work.
Michael is also a professional reader of audio books. Check out his 'library' of recorded books, available for download via Audible, at www.ukemiaudiobooks.com

"Michael Lunts is a rare combination of accomplished writer, fine actor and talented pianist and, on stage, he both acts and performs the music."
John Waddington, Medieval Hall, Salisbury
Just one of the testimonials from literally hundreds of venues that have hosted performances of Michael Lunts' shows over the past decade; theatres and arts centres, stately homes and music societies, cruise liners and even embassy residences.