Post-Prandial Productions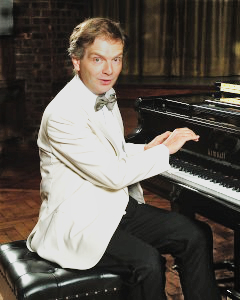 Photo: Gerald Place
Post-Prandial Productions offer the perfect antidote, or complement, to the after-dinner speech: a series of polished, witty and sophisticated entertainments of comedy-song performed by one of the UK's most experienced and widely-travelled actor-pianists. If you are organising an event, a dinner or a celebration, whether private or public, in a theatre, a banqueting hall or even a front room, Michael Lunts can offer tried and trusted live musical comedy tailored to the occasion. The entertainment is timeless, quintessential cabaret - one man, a bow tie, a piano, and some of the finest comedy songs in the English language.
From Coward to Tom Lehrer, Flanders and Swann to Cole Porter, together with lesser-known gems and Michael's own contributions to the genre, 'Post-Prandial Productions' will add a smile to any evening and that extra bit of 'fizz' to the after-dinner champagne!
A veteran contributor to the National Liberal Club's St George's Day Dinners, Michael has performed for anniversaries, weddings,'special' birthdays, as well as in theatres and at festivals the length and breadth of the country.
A CD of Michael's songs is available on request. You can also listen to a selection of them on the Listen page.

"Michael Lunts demonstrates again what a superb pianist he is, and with apparently effortless ease combines this skill with faultless singing and delightful comic expressiveness ... genuine wit and genial nostalgic sophistication."
The Guardian
"Thankyou so much for such an entertaining performance. It was so much enjoyed and, as ever, so appropriate for the occasion, leaving members to go home content and mellow."
The Secretary, National Liberal Club, Whitehall Place, London
"Mr Lunts can switch characters with the twitch of an eyebrow while playing the piano perfectly ... an early evening cocktail that evokes the genuine spirit of Noël Coward"
Michael Coveney, The Daily Mail (Edinburgh Festival Review)