A repertoire of acclaimed one-man shows from classical music dramas to musical comedy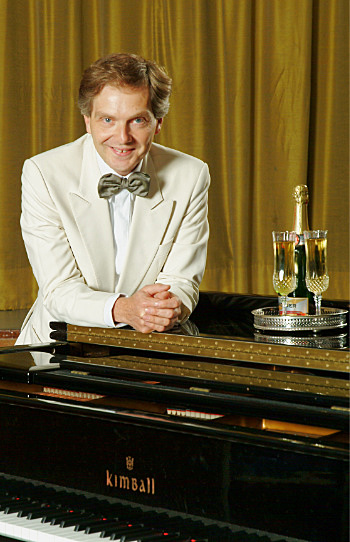 Photo: Gerald Place

Actor, pianist, singer, writer and entertainer Michael Lunts offers three distinct types of musical entertainment...
Post-Prandial Productions
Bespoke comedy song programmes tailored to your requirements and performed by Michael from the piano from his extensive repertoire.
Ideal for sophisticated after-dinner entertainment or for special occasions such as anniversaries, birthdays or other social gatherings.
Comedy Song Revues
Timeless, full-length shows of quintessential cabaret - one man, a bow tie, a piano and some of the finest comedy songs in the English language from Noël Coward to Cole Porter, Flanders and Swann to Tom Lehrer.
Classical Music Shows
Michael has built a worldwide reputation touring his own innovative and fully-staged dramas, in which he portrays composers, such as Chopin, Schubert and Rachmaninov.
In the latest of these, he brings Edward Elgar to the stage, man and musician, against a musical backdrop of the famous Enigma Variations.

"In this hey-day of alternative comedy, a polished, witty, cabaret-style show is hard to come by. So to discover 'Quirkish Delight' was a pleasant surprise. Musical styles are as varied as the changing tone of the lyrics, and Lunts demonstrates an easy, beguiling mastery of the piano and a talent for mimicry which brings out the wealth of comic characters lurking inside the songs."
The Stage
"Coward at Sea is ... a charming and innovative piece ... Michael Lunts has captured the quality of Coward, performing his many roles, while playing the piano and singing, completely in character."
Edinburgh Evening News, Edinburgh Festival Review